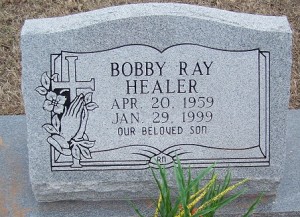 Location: K-Jay
Born: April 20, 1959 McLennan County, Texas
Died: January 29, 1999 Lacy-Lakeview, McLennan County, Texas
Parents:
Allan Ray Healer (1937 – 2013)
Rita Gay Golding Healer (1938 – ____)
Bobby Ray Healer, 39, of Lacy-Lakeview died Friday, January 29, 1999 at his residence.
Services will be at 3 p.m. Monday, February 1, 1999 at Connally ComptonFuneral Home Chapel. Interment will follow at China Spring Cemetery.
Bobby was born April 20, 1959 in Waco, the son of Allan R. and Rita Gay Golding Healer. He was a member of Lakeview Baptist Church. He graduated from Jefferson Moore High Schools and then served four years in the Navy. He attended McLennan Community College and was employed at Hillcrest Emergency and Trauma Center.
He was preceded in death by his grandparents, Marshall and Thelma Healer and A.C. Golding; an uncles, Carl Donovan.
Survivors include his parent, Allan and Rita Healer of Waco; sister, Laurie Ellen McElhaney of Austin; maternal grandmother, Jimmie Ruth Golding of Hewitt; aunt, Patricia Donovan; uncle, Jim Bob Healer of Florida.