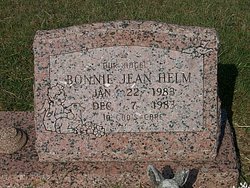 Location: W-Drahn
Born: January 22, 1983 McLennan County, Texas
Died: December 7, 1983 Temple, Bell County, Texas
Daughter of Lee Edmund and Glenda Sue McLemore Helm
Bonnie Jean Helm, 10 1/2 months old or Waco died at Wednesday afternoon in a Temple hospital.
Funeral services will be at 1:00 p.m. Friday at Wilkirson-Hatch Chapel with Rev. Doyle Lawless officiating, burial in China Spring Cemetery.
Survivors: parents, Mr. & Mrs. Lee Helm of Waco; maternal grandparents, Dr. & Mrs. George Helm; maternal grandfather, Glenn McLemore of Waco; maternal great-grandmother, Mrs. Clemmie McLemore of Waco; brother, Steven Helm of Waco.