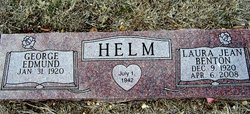 Location: W-Drahn
Born: December 9, 1920 San Antonio, Bexar County, Texas
Died: April 6, 2008 Waco, McLennan County, Texas
Daughter of Thomas Sidney and Hattie Nora Edwards Benton
Parents:
Thomas Sidney Benton (1890 – 1946)
Hattie Nora Edwards Benton (1882 – 1954)
Spouse: Dr. George Edmund Benton
Laura Jean Helm, 87, passed away Sunday at her home in Waco.
Graveside service will be 2 p.m., Tuesday, April 8, at the China Spring Cemetery with the Rev. Larry Holder officiating.
Jean was born in San Antonio, Texas, to the late Thomas Sidney Benton and Hattie Nora Edwards. She graduated from Baylor University in 1940. She played the piano and taught in her early years at Axtell ISD and Mexia ISD. On July 1, 1943, she married George Edmund Helm. They shared a love for traveling, golfing, boating, and working side by side on their Axtell ranch. It was a union that lasted 64 years.
Jean was preceded in death by her twin sister, Mary Robin; and granddaughter, Bonnie Jean.
She is survived by her husband, Dr. George Helm; sons, Lee Helm and wife, Glenda, of Hewitt, and Mark Helm and wife, Regina, of Plano; grandsons, Steve Helm and wife, Mandy, of China Spring, David Helm, serving in the USAF in the United Kingdom, and Ryan Helm, of Plano; and granddaughter, Kinsey.