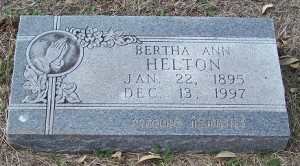 Location: S-Monroe
Born: January 22, 1895 Texas
Died: December 13, 1997 Hill County, Texas
Spouse:
Joe Helton (1892 – 1966)
Bertha Helton, 102, of Hillsboro died Saturday, December 13 at a local nursing home. Graveside services will be at 2 pm Monday at China Spring Cemetery with the Rev. Donnie Brown officiating.
Mrs. Helton was born on January 22, 1895 in McLennan County and attended schools in China Spring. She was a member of Central Baptist Church in Malone, Texas for a number of years.
She is survived by two nieces, Mrs. Alfredia Jackson of China Spring and Mrs. Joyce Lloyd of Reedville, VA; and three nephews, Bill Glenn of Arlington, Henry Oplie and Charles Oplie, both of Waco.