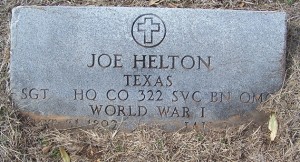 Location: S-Monroe
Born: October 31, 1892 Valley Mills, Bosque County, Texas
Died: January 2, 1966 Marlin, Falls County, Texas
Parents:
Jesse N. Helton (1861 – 1923)
Mary Elizabeth Grace Helton (1859 – 1934)
Spouse:
Bertha Ann Helton (1895 – 1997)
Joe Helton, 73, of Malone died Sunday morning in a Marlin hospital.
Funeral services were to be at 2:30 p.m. today in Connally Funeral Chapel, Rev. Paul Smith was to officiate with burial in China Spring Cemetery.
Mr. Helton was born in Valley Mills. He was a retired farmer and a member of Patton Baptist Church.
Surviving are his wife, Bertha Helton; and one sister, Mrs. Effie Goodrum of Mt. Calm.