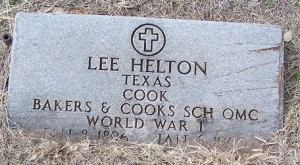 Location: S-Monroe
Born: January 8, 1896 Valley Mills, Bosque County, Texas
Died: January 6, 1960 Hubbard, Hill County, Texas
Parents:
Jesse N. Helton (1861 – 1923)
Mary Elizabeth Grace Helton (1859 – 1934)
Funeral services for Leroy Helton, 64 of Normagee will be at 2 p.m. Thursday in Connally Funeral Chapel. Burial will be in China Spring Cemetery.
Mr. Helton died Wednesday morning in Hubbard. Friends say he was pushing a stalled automobile when he collapsed and died.
Mr. Helton was born in Valley Mills January 8, 1895. He had lived in Central Texas most of his life, in Normangee the past several years.
Survivors are a brother, Joe Helton of Normangee; sister, Mrs. Effie Goodrum of Mt. Calm; several nieces and nephews.