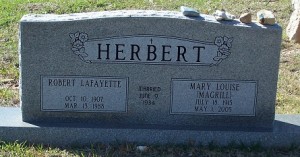 Location: U-Baker
Born: July 18, 1915 Longview, Gregg County, Texas
Died: May 1, 2005 Waco, McLennan County, Texas
Parents:
Collie Alexander Magrill (1882 – 1963)
Lute Elwilda Hart Magrill (1887 – 1954)
Spouse:
Robert Lafayette Herbert (1907 – 1988)
Mary Louise Herbert, 89, died peacefully Monday, May 1, 2005 after a long and full life.
Services will be at 3:30 p.m. Thursday, May 5 at St. Alban's Episcopal Church with Rev. Janne Osborn officiating. Interment will follow at China Spring Cemetery. Visitation will be from 6 to 8 p.m. Wednesday, May 4 at 2318 Oak Cliff Dr., in Waco.
Louise was born in Pinetree (Longview), Texas on July 18, 1915 to Collie and Lutie Magrill. After graduating from Lufkin High School, she attended Satterwhite Business College in Lufkin and became secretary to her future husband, Robert L. "Bob" Herbert. Louise and Bob married June 9, 1934 and celebrated 54 years of marriage before Bob's death in 1988.
During their marriage they lived in Lufkin, Nacogdoches, Seguin, Baytown, Olympia, Washington and Meridian, Miss., before moving to Waco in 1954 for Bob to direct the local United Way.
From their long marriage came five children and for Louise nothing surpassed the importance of her family. She will be remembered for being a model of selflessness, compassion, inclusiveness, social justice and tireless caregiving.
Survivors include her sons, Robert Herbert and wife Suzanne of Valley Mills, Steve Herbert and wife Peggy of China Spring, David Herbert and wife Rita of San Antonio, and John Herbert and wife Toni of Waco; daughter, Pamela Smallwood and husband Roy of Waco; 10 grandchildren; 13 great-grandchildren; one great-great grandchild; sister, Corinne Dearmond of Henderson, Texas.