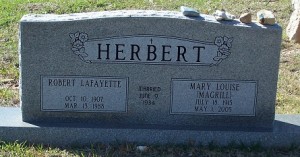 Location: U-Baker
Born: October 10, 1907  Houston, Harris County, Texas
Died: March 13, 1988 Waco, McLennan County, Texas
Son of John Mushat and Amelia Jane Anderson Herbert
Parents:
John Mushat Herbert (1883 – 1960)
Spouse:
Mary Louise Magrill Herbert (1915 – 2005)
Robert Lafayete (Bob) Herbert, 80, executive director for 23 years of the United Way of Waco and its predecessor organizations, the community Chest and the United Fund, died Sunday at a local hospital.
He had willed his body to the University of Texas Health Science Center.  memorial services will be at 2 p.m. Tuesday at St. Alban's Episcopal Church, the Rev. Paul E.Taft officiating.
Mr. Herbert was born in Houston in 1907.  He graduated from Lufkin High School and was a 1931 graduate of Texas A&M University, where he served as editor and chief of the Battalion.  He was married to Louise Magill of Lufkin in 1934.  Mr. Herbert was in the U. S. Army during World War II, serving 30 months in Europe.  He was a member of St. Alban's Episcopal Church and several times was senior warden of the parish.
Before coming to Waco in 1954, Mr. Herbert had served as executive director of the United for six years in Baytown and Meridian, Miss.   He also had served 15 years in various localities on the staff of the Texas Department of Public Welfare.
Survivors include his wife, four sons, Robert H. Herbert of Denton, Stephen W. Herbert of China Spring, David P. Herbert of San Antonio and John A. Herbert of Waco; a daughter, Mrs. Roy C. (Pamela) Smallwood of Waco; two sisters, Mrs. Virgil J. Winder of Houston and Mrs. Edwin T. Davis of Baytown; two brothers, Hampton L. Herbert and Herbert V. Herbert, both of Baytown; nine grandchildren, and three great-grandchildren.
The family has designated the St. Alban's Episcopal church endowment fund for memorials.