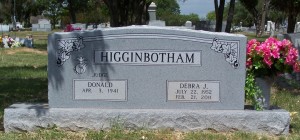 Location: P-Higginbotham
Born: July 22, 1952 Houston, Harris County, Texas
Died: February 21, 2011 Georgetown, Williamson County, Texas
Parents:
Salem "Sammy" Habeeb (1926 – 2009)
Maggie Darwin Habeeb (1926 – 2006)
Spouse: Donald Higginbotham
Debra J. Higginbotham, 57, of Georgetown, passed away Monday, February 21, 2011, at her residence. Services were held 1 p.m., Friday, February 25, at Wilkirson-Hatch-Bailey Funeral Home Chapel with the Dr. Steve Mansen officiating. Burial followed at China Spring Cemetery.
Debra was born in Houston, Texas, to the late Sammy and Maggie Darwin Habeeb. For many years, she was the owner and proprietor of the Fountainview Café in Houston. After her marriage to Judge Donald Higginbotham and her move to Georgetown, she sold the restaurant in Houston and became a bookkeeper. Debra was a lifetime committee member of the Houston Livestock Show and Rodeo.
She is survived by her loving husband of 14 years, Judge Donald Higginbotham, of Georgetown; her sister, Paula Habeeb, of Houston; and many other family members and friends.