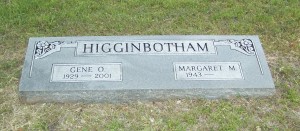 Location: B-Smith
Born: November 13, 1929 Valley Mills, Bosque County, Texas
Died: July 13, 2001 Clifton, Bosque County, Texas
Parents:
Percy T Higginbotham (1899 – 1982)
Oma Forrest Lechler Higginbotham (1903 – 1982)
Spouse: Margaret Marie Grones Higginbotham
Children:
Stephen Bradley Higginbotham (1958 – 2003)
Stacy Leajean Higginbotham (1964 – 1964)
Gene Higginbotham, 71, of Valley Mills, died Friday, July 13, 2001 in Clifton.
Services will be 2 p.m. Sunday at First United Methodist Church with Rev. Lindsay Churchman officiating. Internment will be at China Spring Cemetery.
Mr. Higginbotham was born November 13, 1929 in Valley Mills to Percy and Oma Lechler Higginbotham. He attended Valley Mills schools and 4-C Business College in Waco. He was first employed as an underwriter at American Amicable Life Insurance Company. He retired in 1991 from Texas Farm Bureau after more than 20 years of service as an underwriter. Mr. Higginbotham was a life long resident of Valley Mills where he served two terms on City Council and was active in various church and civic offices.
He was preceded in death by his parents; brothers, W. C. and Percy Higginbotham; daughter, Stacy Higginbotham; and granddaughter, Jamie Higginbotham.
He is survived by his wife of 34 years, Margaret Higginbotham; son, Brad Higginbotham and wife, JoBeth of Valley Mills; granddaughters, Claire of Valley Mills and Amanda and Ashley of Corsicana.