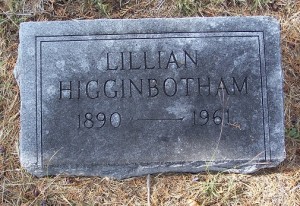 Location: O-Davis
Born: August 14, 1890 McLennan County, Texas
Died: September 25, 1961 Brownwood, Brown County, Texas
Parents:
Lorenzo Dowd Galaway (1854 – 1938)
Lucretia Ringer Galaway (1860 – 1945)
Spouse:
Guy Higginbotham (1891 – 1952)
Services for Mrs. Guy Higginbotham of Meridian will be held Wednesday at 2 p.m. in Brister Funeral Home Chapel in Meridian. Burial will be in China Springs Cemetery.
Mrs. Higginbotham died in a local rest home Monday about 8 p.m.
She was born in Texas Aug. 14, 1890. She had lived with her brother, L. D. Galaway, 2012 Coggin Ave., since June.
She is survived by one sister, Mrs. J. A. Allison of Portland; three brothers, L. D. Galaway Jr. and John W. Galaway of Brownwood, and W. T. Galaway of Brady.
Wright's Funeral Home will be in charge of arrangements.