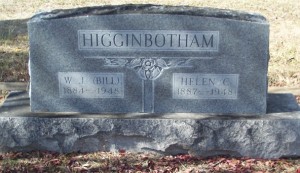 Location: P-Higginbotham
Born: September 27, 1887 Texas
Died: October 17, 1948 Houston, Harris County, Texas
Parents:
Beverly Caldwell (1853 – 1934)
C. Lula Fetzer Caldwell (1864 – 1924)
Spouse:
W J Higginbotham (1884 – 1948)
Children:
Nelson Higginbotham (1912 – 1993)
Mrs. W. J. Higgnbotham, 61, of China Spring, died Sunday morning in a Houston hospital of injuries suffered last week in an automobile accident near Cypress.
Funeral services were held at 2:30 p.m. Monday at the China Spring Baptist Church with the Rev. Don Richey and Dr. A.J. Holt officiating. Burial was in the China Spring Cemetery.
Survivors include two sons, Nelson Higginbotham of Waco and Jack Higginbotham of Cameron; brother, Joe Caldwell of Waco; two grandchildren.