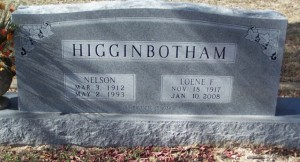 Location: P-Higginbotham
Born: March 3, 1912 McLennan County, Texas
Died: May 2, 1993 Waco, McLennan County, Texas
Parents:
W J Higginbotham (1884 – 1948)
Mary Helen Caldwell Higginbotham (1887 – 1948)
Spouse:
Hallie Leone Ferguson Higginbotham (1917 – 2008)
Nelson Higginbotham of China Spring, 81, died Sunday in a local hospital.
Services will be 3:30 p.m. Tuesday at Wilkirson-Hatch Funeral Home Chapel, the Rev. Kenneth Boatman officiating. Burial will be at China Spring Cemetery.
Mr. Higginbotham was born March 3, 1912. He was a lifelong resident of China Spring. He graduated from Waco High School. He married Leone Ferguson.
He was a member of Texas Department Public Safety, retiring as a lieutenant in 1977. He was constable for Precinct No. 4 for five years. He graduated from and later taught in the State Police Academy, Department of Public Safety in Austin. He was a member of the First United Methodist Church in China Spring, a 50 year Mason and a member of Herring Lodge No. 1224.
Survivors include his wife and a son, Don Higginbotham of Georgetown.