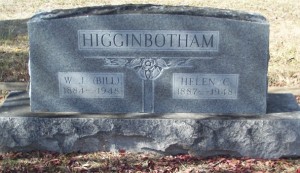 Location: P-Higginbotham
Born: February 19, 1884 China Spring, McLennan County, Texas
Died: October 12, 1948 Cypress, Harris County, Texas
Parents:
Robert George Higginbotham (1852 – 1907)
Cinda R Willoughby Higginbotham (1856 – 1936)
Spouse:
Mary Helen Caldwell Higginbotham (1887 – 1948)
Children:
Nelson Higginbotham (1912 – 1993)
W. J. Higginbotham, 64, of China Spring, died Tuesday in an automobile collision at Cypress near Houston.
Funeral services will be held at 2:30 p.m. Saturday at the China Spring Baptist Church, Rev. Don Richey and Rev. P.F. Evans of Fort Worth officiating, burial in China Spring Cemetery.
Survivors his wife of China Spring; two sons, Nelson Higginbotham of Waco and Jack Higginbotham of Cameron; two brothers, Fred Higginbotham of Houston and Guy Higginbotham of Meridian; one sister, Mr. Ben F. Hill of Waco; two grandchildren.