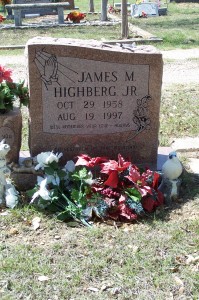 Location: V-Eichelberger
Born: October 29, 1958 Gatesville, Coryell County, Texas
Died: August 19, 1997 Falls County, Texas
Son of James Myrth Highberg, Sr. and Pauline Mae Painter Highberg
Parents:
Pauline Mae Painter Highberg (1936 – 2014
Married Sandra L. Stranacher
James M. Highberg, Jr. 38, of China Spring died Tuesday, August 19, 1997.
Services will be at 2 pm Friday, August 22 at BrookView Funeral Home Chapel, with the Rev. Donnie Brown officiating, Burial will follow at China Spring Cemetery. The family will receive visitors 6-8 m Thursday at the funeral home.
Mr. Highberg was born October 29, 1957 in Gatesville. He graduated from University High School. He attended First Baptist Church in China Spring. He worked for 16 years at Diesel Power and Supply as a sales representative. He coached girls' Little Dribblers Basketball in China Spring.
He is survived by his wife, Sandy (Stranacher) Highberg; his mother, Pauline Highberg, his father, James Highberg; daughter, Jaime Highberg; sister, Debbie Brooks; and three brothers, Nels Highberg, Daniel Posey and Christopher Posey.