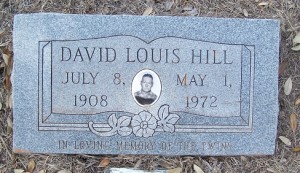 Location: Q-McLennan
Born: July 8, 1908 China Spring, McLennan County, Texas
Died: May 1, 1972 Waco, McLennan County, Texas
Parents:
David Bernard Hill (1885 – 1948)
Minnie Lou Talbert Hill (1880 – 1957)
Spouse:
Florence Chandler Hill (1911 – 2007)
David Louis Hill, 63 of China Spring died this morning in a local hospital.
Funeral services will be at 10 a.m. Thursday at China Spring Baptist Church with Rev.  Hoyt Hunnicutt officiating. Burial will be in China Spring Cemetery.
He had farmed in the China Spring area and had a dairy for a number of years before retiring in 1967.
He was a member of China Spring Baptist Church.
He is survived by his wife; four daughters, Mrs. M. D. (Dorcas) Hanna of Mansfield, Mrs. Jerry (Lynda) Garrett of Caldwell, and Misses Helen and Ellen Hill, both of China Spring; son, David Chandler Hill of Waco; two sisters, Mrs. Fannie Thornal of Waco and Mrs. Ruth Hulbert of Gholson; two brothers, Morris Hill of Baton Rouge, LA and Eugene Hill of Hurst; 12 grandchildren and one great-grandchild.