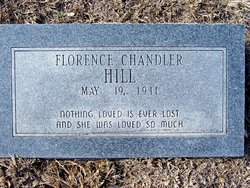 Location: Q-McLennan
Born: May 19, 1911 China Spring, McLennan County, Texas
Died: April 8, 2007 Grandview, Johnson County, Texas
Daughter of William Kelly and Sudie Jane Rogers Chandler
Parents:
William Kelly Chandler (1876 – 1925)
Sudie Jane Rogers Chandler (1885 – 1955)
Spouse:
David Louis Hill (1908 – 1972)
Florence Chandler Hill, 95, passed away Easter Sunday, April 8, 2007, at Grandview Nursing Home in Grandview, Texas. Services will be 3:30 p.m. Wednesday, April 11, at Wilkirson-Hatch-Bailey Bosque Chapel with Charles and Royce Thornal, nephews, officiating. Burial will follow at China Spring Cemetery Visitation will begin at 2 p.m. prior to the service in the chapel.
Florence was born in China Spring, Texas, to the late William and Sudie Chandler. She attended school in China Spring and attended Waco High School in Waco. She married Louis Hill in 1931. She was active in the First Baptist Church of China Spring for many years; and after moving to Waco, joined Grace Temple Baptist Church. She loved to read, listen to hymns and cook for the family. She worked as a switchboard operator for several years and as a seamstress.
Florence was preceded in death by four brothers; four sisters; and one granddaughter.
Survivors include her son, David Hill, of Venus; daughters, Rebecca Hanna and husband, Bud, of Mansfield, and Lynda Crook and husband, Bob, of College Station; eight grandchildren; 14 great-grandchildren; and five great-great-grandchildren.