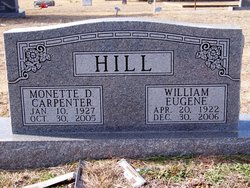 Location: Q-McLennan
Born: January 10, 1927 China Spring, McLennan County, Texas
Died: October 30, 2005 Arlington, Tarrant County, Texas
Parents:
Alexander William Carpenter (1883 – 1938)
Dora N Maddux Carpenter (1886 – 1969)
Spouse:
William E. "Gene" Hill (1922 – 2006)
Monette was the youngest of eight children born to A. W. and Dora Carpenter. Each one, especially her sister, Mary, was in charge of taking care of Monette and keeping her safe. She was a beautiful, blond-curled, angelic child. Monette grew up on the farm in China Spring where she met her best friend for life, Dorothy Roge Freeman and the love of her life, William E. "Gene" Hill. When Gene returned from World War II in 1945, he and Monette married in November of 1945, almost sixty years ago.
Gene became an air-traffic controller with the FAA. They lived in Laredo, El Paso, Fort Worth and Hurst. They established their permanent home in Hurst and became involved in the community and the churches they joined. Although, they had no children of their own, each Sunday for 19 years they have basked in the warm hugs and bright chatter of the children who attended Hurst Baptist Church Sunday School. Monette was a lifelong Baptist and at the time of her death she was a member of North Point Baptist Church in Hurst. She was a loving, devoted daughter, sister, aunt, neighbor and friend. She was an outstanding care-giver, committed to monitoring Gene's diabetes to keep him healthy.
She was preceded in death by her parents; brothers, A. M. and Roger Carpenter; sisters, Birdie Scholes, Bet Hamlin, Florence Pitts and Maude Willie.
She is survived by her husband, William (Gene) Hill; sister, Mary Kepler; sister-in-law, Lillian Carpenter; and many nieces and nephews.