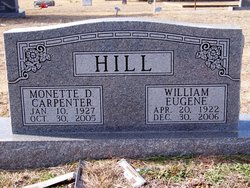 Location: Q-McLennan
Born: April 20, 1922 China Spring, McLennan County, Texas
Died: December 30, 2006 Hurst, Tarrant County, Texas
Son of  David B. and Minnie Talbert Hill
Parents:
David Bernard Hill (1885 – 1948)
Minnie Lou Talbert Hill (1880 – 1957)
Spouse:
Monette Carpenter Hill (1927 – 2005)
William E. "Gene" Hill, of Hurst, Texas, passed away Saturday, Dec. 30, 2006, in Hurst.
Services will be 2 p.m. Saturday, Jan. 6, at Wilkirson-Hatch-Bailey Chapel with Gene's nephews, the Rev. Royce Thornal and Charles Thornal officiating. Burial will follow at China Spring Cemetery. Visitation will be from 12 to 1:30 p.m. Saturday before service begins.
Gene was born April 20, 1922, in China Spring, to David B. and Minnie Talbert Hill and graduated from Waco High School. Gene served in World War II as a member of the 740th Bombardment Squadron. He served in the European theater, and received EAME Campaign Medal with 9 Bronze Stars, Distinguished Unit Badge with 1 Oak Cluster and Good Conduct Medal. Upon returning from WWII, Gene married Monette D. Carpenter and began his career as a Federal Aviation Administration Air Traffic Controller. He retired in 1976. After retiring, Gene became a lifelong volunteer. He was a founding board member of Hurst Bedford Senior Center and remained an active board member until his illness. He and his wife taught many young children at Hurst Baptist Church for over 19 years. Gene was very active in his local NARFE chapter and served as president of the Northeast Chapter. He and Monette helped the retired Federal Employees Association raise more than $3 Million for Alzheimer's Research. In 2002, the City of Hurst honored Gene as Citizen of the Year for Community Service.
He was preceded in death by Monette, his wife of 60 years. He is survived by his sisters-in-law, Lillian Carpenter of Waco and Mary Kepler of Houston. He is also survived by caregivers, Dorcas Rebecca Hanna and husband, M.D. of Mansfield, Texas, and Kay Bonner and husband, Tucker of Temple; as well as many other nieces and nephews. Memorial donations may be made to your local Alzheimer's Association or to the Hurst/Bedford Senior Citizen Center.