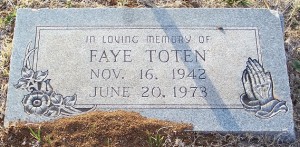 Location: P-Higginbotham
Born: November 16, 1942 Hamilton County, Texas
Died: June 20, 1973 China Spring, McLennan County, Texas
Parents:
Purvey Toten (1918 – 1998)
Katie Katherine McDonald Toten (1927 – 1992)
Children:
Jay Lee Anderson (1960 – 1960)
Linda Darnell Anderson (1963 – 1963)
This lady was the victim of a homicide committed at the hands of her estranged husband.
Mrs. Faye Anderson, 30, of China Spring, died at 10:45 p.m. Wednesday at her residence.
Funeral services will be held at 2 p.m. Saturday at China Spring First Baptist Church, burial in China Spring Cemetery.
Survivors: one son, Mervin Lee Anderson; her parents, Mr. and Mrs. Purvey Toten of China Spring; sister, Mrs. Hazel Lowrey of Waco; four brothers, Donald Ray Toten, Kenneth Lee Toten, Al Toten and Purvey Toten.